WELCOME SPOOKY FRIENDS


Come into my parlor...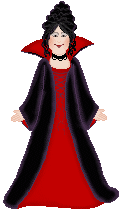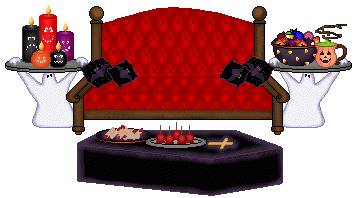 I loveeeee things that make me smile and the things below
really do make me smile. Thank you ladies for sharing your
wonderful Halloween treats with me. Happy Halloween :o)


Twas Halloween night and all through the sky,
The clouds hid the moon as the bats glided by.
I was dressed all in white in my mama's old sheet,
Walking with friends down the ghost-haunted street.

All the kids were dressed in bright costumed array,
While flashlights and street lights guided our way.
We giggled and laughed as we hurried to each door,
Ringing or knocking, then laughing some more.

There were pumpkins aglow and skeletons dangling,
Scarecrows and shadows and silver chains clanging.
Grownups in masked faces opened doors in greeting,
As we stood with our bags and waited for treating.

Some people say that we should not have this night,
That too many kids are harmed by the sights or the fright -
But it's the one time a year when we can pretend to be
Someone else for a while, not you - not even me.

Let them celebrate now, as the bats glide on by,
For childhood is brief, like the blink of an eye.
Listen to their laughter and let the children be
Someone else for a while, not you and not even me.

by Judith A. Lindberg

Ghost Stories & Haunted Houses
Gettysburg Pa.

Name: Apartment
Location: 60 Chambersburg St.

This building has been standing since the summer of 1863, but the section in which this particular apartment is located was added later. It is reported that the apartment is haunted by an inquisitive ghost named Chuck. Reportedly Chuck would whistle around the apartment for hours on end. Chuck is also said to turn electronic appliances on and off and once he even rewound the VCR to watch a humorous scene again. It is also reported that once Chuck lifted a woman's hair off her shoulder and made it stand straight out--on the other side of her head.

This is funny. Sounds like this Chuck was quite a jokester. Very much like the Chuck I know & love. LOL!! 'cept with my Chuck he'd be rewinding a Winston Cup race!! And I KNOW if he could he wouldn't bother lifting a womans hair and moving it over to the other side of her head. With Nikki he'd just cut it off so she wouldn't have to run her hair dryer so much. LOL!!
Thanks Dawn for sharing this with me. :o)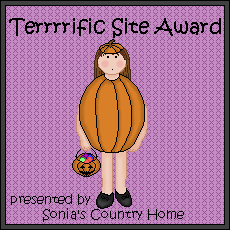 Qoooo... What a pleasant surprise!! Thank you
so much Sonia!! This really did make my day!!

Renee says the only reason I got these is cause they
said Spooktacular. Does she know me or what?? *g*
Yep, Renee you're partly right... But I have to admit
these are the cutest lil ghosties I ever did see.


Could Be Halloween
Yowling, prowling, growling cat
Why do you switch your tail like that?
Why do your eyes flash gold and green?
Could be - must be - Halloween!

Slinky, inky, blinky cat,
Why do you arch your back like that?
What scary creatures have you seen?
Could be - must be- Halloween!


ON A TIRED HOUSEWIFE
Here lies a poor woman who was always tired,
She lived in a house where help wasn't hired:
Her last words on earth were: "Dear friends, I am going
To where there's no cooking, or washing, or sewing,
For everything there is exact to my wishes,
For where they don't eat there's no washing of dishes.
I'll be where loud anthems will always be ringing,
But having no voice I'll be quit of the singing.
Don't mourn for me now, don't mourn for me ever,
I am going to do nothing for ever and ever."
Anonymous


Sing a song of Halloween
Pumpkins everywhere
Cat and Bats and witches
are flying through the air


For A Scary Good Time The Holiday Hotel
Circle of Friends Club Presents: The Halloween Suite
Ohhhhh It's Spooky in the Hotel Tonight!!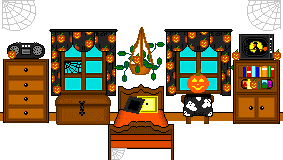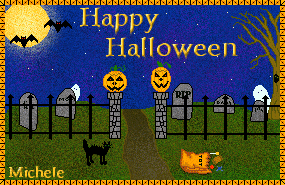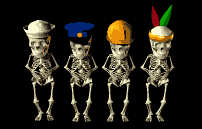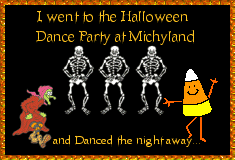 I must confess the only reason this page exists is
cause I absolutely love these graphics. Thanx Kim.
Spooky Line by HoneyBrook
Room image by Kelly ~ clock by vm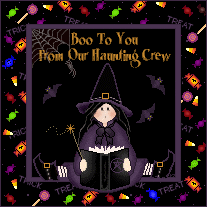 1997-03 Dmbp updated Aug 2003 All rights reserved