Donna's Memberships and Stuff
As soon as I saw this image I had
to use it. It is so Me n' Chuck. LOL!!
Donna, Is it dinner time NOW??

If I forgot anyone please let me know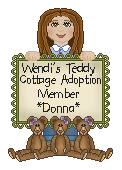 Quilts Squares were made especially for me by HoneyBrook Graphics. : o)
Available only for a link back to each respective site. Thank you.
The images may NOT be used in clip art collections or at
Greeting Card Sites they were specifically created as a courtesy
to share with -x-x- my friends -x-x- who maintain Quilt Sites.

Unfortunately, I myself do not maintain a Quilt Square site.
With 5 sites... There's so much to do... and so little time.
LOL!! But I will let ya know if'n I decide to give up sleeping,
house cleaning and cooking altogether. k? < g >
Quilt Squares for Donna's Sites
Click the square
Glass door and Peanut images by Mary's Little Lamb, desk by Irene, Wall clock and picture are part of HoneyBrook's School n' Scrap Collection. Quilt Squares by HoneyBrook.
Custom Image of Peanut was drawn especially for me by Mary of Mary's Little Lamb. She is NOT available for download.
© 1997-03 Dmbp updated November 16, 2003 All rights reserved
Please use web netiquette at all times!