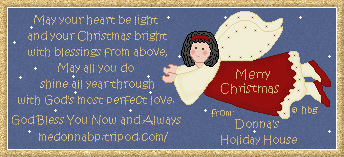 Christmas is a time to remember the special people in our lives--
The thoughtful people who brighten our days all year through,
the fun-loving people with whom we share laughter,
good times, and fond memories,
The caring people with whom we share our tears,
The helpful people who are always there to offer a hand,
The wonderful people who have touched our lives as few can.
Have a Wonderful Christmas!!