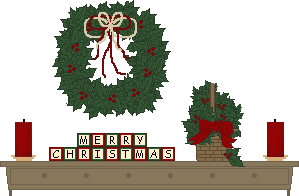 Here are the guidelines for applying for my award:

No pornography or distasteful themes. I will not even look at sites that are hateful, express prejudices, or are offensive. Your site MUST be family friendly.

Your site must be done in the true Spirit of Christmas. It must be pleasing to look at, too!
It is not mandatory, but I would like it very much if you would sign my guestbook.

I am looking for appealing sites with *content*. Something interesting on your pages, not just links to other interesting pages. Plus the links on your site must NOT be broken. Not too much Java (if there is too much and my computer freezes, I will not go back to look), nice layout, and most of all, it should be fun for the viewer who has come to visit.

Please give me a couple of days to view your site. If you have not heard from me you did not qualify. Fix your page and try again. REASONS YOU WILL NOT HEAR FROM ME Lewd - rude distasteful subject matter, Santa bareing his buns is NOT what I consider in the true spirit of Christmas.
If I see an object (graphic) stolen from my pages... you can forget it!! I will look at ALL your Christmas pages.
You MUST submit your site address to me. For example: http://members.tripod.com/Medonnabp/christmas.htm

If you are given my Holiday Award I would appreciate a link back to Donna's Holiday Hotel. Thank you.

I am a "BIG TIME" believer in giving credit where credit is due. If you have a graphic on your site from any site I am familiar with, I expect to see a link back to that site. Afterall it's thanks to them we have graphics on our pages to begin with isn't it? :o) This is very important!!
Have a Safe, Happy and Healthy Holiday.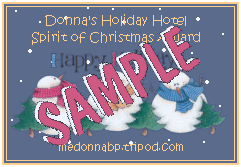 Your Name:


Your Email Addy:


Tell me about your site:


Have you signed my Guestbook?
Yes
No




Images listed at this web site are not public domain
and not available for download. Thank you!!