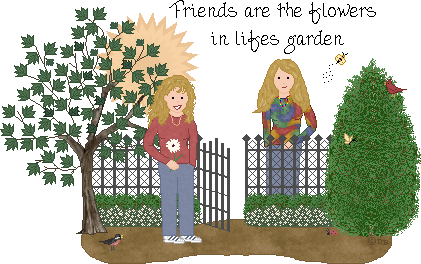 Remember that a little love goes a long way.
Remember that a lot... goes forever.
Remember that friendship is a wise investment.
Life's treasures are people... together.
Realize that it's never too late.
Do ordinary things in an extraordinary way.
Have health and hope and happiness.
Take the time to wish upon a star.
And don't ever forget... for even a day...
How very special you are.

A special friend is a friend who shares,
one who listens, one who cares.
A special friend is a blending of
loyalty and cheer and love.
Faith and trust and kindness too
In short it is someone just like YOU!

Laurie and I share these lil cuties. Rec'd 10-11-03 Thank you Laurie!
Gosh I was just thinking... I think Laurie and I have been friends
since something like the spring of 1999. :o)




Me & Renee ~~ Renee & Me
Like birds of a feather we flock together
Who let the bird out? *g*
The miracle of friendship can be spoken without words...
Hearing unspoken needs, recognizing secret dreams,
Understanding the silent things that only true friends know.




All I need to know about life I learned from my Girlfriends
Good times are even better when they're shared.
A good long talk can cure almost anything.
Everyone needs someone with whom to share their secrets.
Listening is just as important as talking.
An understanding friend is better than a therapist; and cheaper too!
Laughter makes the world a happier place.
Friends are like wine; they get better with age.
Sometimes you just need a shoulder to cry on.
Great minds think alike, especially when they are female!
When it comes to "bonding," females do it better.
YOU ARE NEVER TOO OLD FOR SLUMBER PARTIES!!!!
Girls just want to have fun.
It's important to make time to do "girl things."
Calories don't count when you are having lunch
(or any other food) with your girlfriends.
You can never have too many shoes.
GEMS MAY BE PRECIOUS, BUT FRIENDSHIP IS PRICELESS!!!!!

Received March 6th, 2001 Thank you Teresa!! :o)


Received August 28th, 2000 Thank you Chrissie!!

| | |
| --- | --- |
| Received 10/9/00 from Marian. Thank you Marian for always being there for me!! | |

Just a Few of My Favorite Friends
ALL of my Holiday Hotel Circle of Friends

A memory lasts forever,
and never does it die.
True friends stay together
and never say goodbye.


Donna bracelet a gift from Renee.


1997-2003 DMBP ~ Images used at this web site are not
public domain and not available for download. Thank you!!