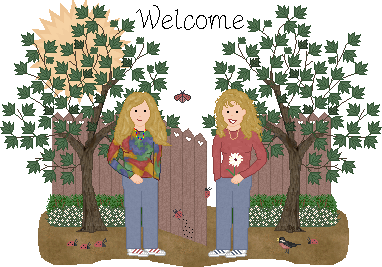 Of all the gifts life may bestow
none is so constant, steady and sure
as the tender heart of a friend.

Drinking Iced Tea

I sat under an Oak tree on a summer day, drinking iced tea and visiting with my Mother. "Don't forget your girlfriends," Mother advised, clinking the ice cubes in her glass.

"No matter how much you love your husband, you are still going to need girlfriends. Remember to go places with them now and then; do things with them. And remember that girlfriends are not only friends, but sisters, daughters and other relatives too."

What a funny piece of advice, I thought. Hadn't I just gotten married? Hadn't I just joined the couple-world? I was now a married woman, for goodness sake, not a young girl who needed girlfriends. But I listened to my Mom. I kept contact with my girlfriends and made more each year.

As the years tumbled by, one after another, gradually I came to understand that Mom really knew what she was talking about.

Here is what I know about Girlfriends:
Girlfriends bring casseroles and scrub your bathroom when you need help.

Girlfriends keep your children and keep your secrets.

Girlfriends give advice when you ask for it.

Sometimes you take it, sometimes you don't.

Girlfriends don't always tell you that you're right, but they're usually honest.

Girlfriends still love you, even when they don't agree with your choices.

Girlfriends laugh with you, and you don't need canned jokes to start the laughter.

Girlfriends pull you out of jams.

Girlfriends are there for you, in an instant and when the hard times come.

Girlfriends listen when you lose a job or a friend.

Girlfriends listen when your children break your heart.

Girlfriends listen when your parents' minds and bodies fail.
My friends and family bless my life! When we begin life's adventure we have no idea of the incredible joys or sorrows that lay ahead. Nor do we know how much we will need each other.

Count your garden by the flowers never by the leaves that fall;
Count your days by golden hours don't remember clouds at all.
Count the nights by stars, not shadows,
Count your life by smiles, not tears,
And with joy in every year count your age by friends, not years.
Visit my friend Renee. Renee and I have known one another since October 1999. She used to have this lil thingy on her site if you found a broken link she would send you a prize. Having never received a real prize from anyone on the internet, you can only imagine my delight when my Halloween stickers arrived in my real mail box. We've been fast friends ever since.

Renee is my rock. She's always there when I need help, a shoulder to lean on or a fun friend to play on-line with. Renee is just as goofy as I am. When things were slower for us we used to spend hours entertaining each other by sending goofy stuff back and forth to one another. We may live 2 or 3 states apart but I know, I'll never be alone as long she's around. Hey Renee, wanna go Dumpster Diving tonight? :o)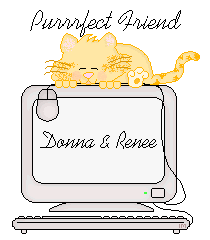 Visit my friend Laurie aka. MotherBear. Me and Laurie go way back. We met raising beans around April 1999 and we've partied hearty in several other internet activities together. :o)

Received 7-26-01 Thank you Shelley

Received 2-1-02 Thank you Jeanne!! :o)

Nicole n' I share this lil cutie. :o) 2/12/02










1997-2003 DMBP ~ Images used at this web site are not
public domain and not available for download. Thank you!!