~Graphic Intense - Sorry for the inconvenience ~
~ If some images fail to load just hit refresh on your browser ~



My Country, 'Tis of Thee
(Samuel F. Smith written 1831)
My country, 'tis of thee,
Sweet land of liberty,
Of thee I sing;
Land where my fathers died,
Land of the pilgrims' pride,
From ev'ry mountain-side
Let freedom ring!
My native country, thee,
Land of the noble free,
Thy name I love;
I love thy rocks and rills,
Thy woods and templed hills.
My heart with rapture thrills
Like that above.
Let music swell the breeze
And ring from all the trees
Sweet freedom's song;
Let mortal tongues awake;
Let all that breathe partake:
Let rocks their silence break,
The sound prolong.
Our fathers' God, to thee,
Author of liberty,
To thee we sing;
Long may our land be bright
With freedom's holy light.
Protect us by thy might,
Great God, our King!

Donna's Patriotic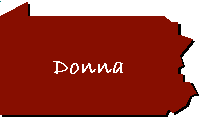 You've got a friend in Pennsylvania
Received July 2, 2001 from my I Love America group.
WOW!! What an honor!! Thank you so much Karan and
Thank you my American Friends!!


Received June 20th, 2000

Oh this is just too cool!! And me still celebrating my win from Father's Day!! :o) Thank you so much Marian and The Holidays for Fun Webring for voting my July 4th page as the best!! I'm honored and delighted to receive your award!!

I'd like to take this opportunity to Thank Marian aka. Estee Pinky for all her hard work in running her webrings and for taking the time to do these special contests for it's members. A little recognition for our efforts goes a long way when you think of all the holiday web pages that are out there. So if you're not part of The Holidays for Fun Webrings stop by today and sign up. Who knows... The next contest winner could be you!! And to those who already are a member be sure to check out Estee Pinky's Holiday for Fun Club and Message Board at Yahoo. It is dedicated to the Holiday community and to help friendships grow between it's members, so I encourage you to join this wonderful club for fun.




Celebrating with you the spirit of our great country

This land is your land, This land is my land,
from California to the New York island;
From the redwood forest to the Gulf Stream waters
This land was made for you and me.

As I was walking that ribbon of highway,
I saw above me that endless skyway:
I saw below me that golden valley:
This land was made for you and me.

I've roamed and rambled and I followed my footsteps
To the sparkling sands of her diamond deserts;
And all around me a voice was sounding:
This land was made for you and me.

When the sun came shining, and I was strolling,
And the wheat fields waving and the dust clouds rolling,
As the fog was lifting a voice was chanting:
This land was made for you and me.

As I went walking, I saw a sign there,
And on the sign it said "No Trespassing."
But on the other side it didn't say nothing,
That side was made for you and me.

In the shadow of the steeple I saw my people,
By the relief office I seen my people;
As they stood there hungry, I stood there asking
Is this land made for you and me?

Nobody living can ever stop me,
As I go walking that freedom highway;
Nobody living can ever make me turn back,
this land was made for you and me.